Water Heater Installation & Repairs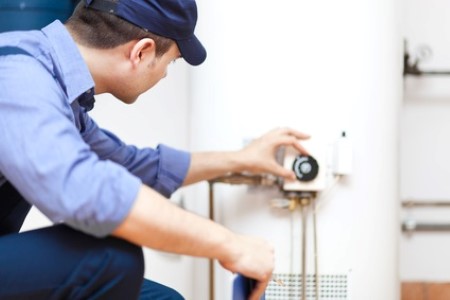 One of the most wonderful aspects of your plumbing system is the hot water that it provides for you and your family on a daily basis. Your water heater is absolutely critical to how you and your family use and enjoy your home. When it malfunctions, you suffer an immense inconvenience. At Matt's Plumbing Solutions, our plumbers have the knowledge, skill, and experience necessary to keep you water heater functioning in the best possible manner at all times. That's why locals call us anytime they need services related to water heaters in Minneapolis and St. Paul.
Since 2009, our professionals have worked our hardest in order to provide the highest quality plumbing services to Minneapolis and St. Paul residents and businesses. Our goal is to form long-lasting and mutually beneficial relationships with all of our customers. Our plumbers can care for your water heater at all stages of its service life, from installation to replacement. As such, you can trust us with all your present and future water heater related needs.
If you need to hire a professional plumber to install, repair, or replace water heaters in Minneapolis or St. Paul, call Matt's Plumbing Solutions today. Our courteous and polite staff would be excited to take your call and to answer any questions that you may have. We can schedule your appointment today.
Water Heater Installations and Replacements in Minneapolis/St. Paul
At some point in time, every water heater needs to be replaced. For a standard gas system, you can expect to get 10 to 15 years out of your water heater. For a tankless water heater, you can expect it to last for around 15 to 20 years. If your water heater has broken down or is in need of repairs and is over a decade old, it may be more cost effective to go ahead and replace the system.
At Matt's Plumbing Solutions, our Minneapolis and St. Paul plumbers can help you with the entire water heater installation process. Our professionals can troubleshoot your current system to determine the best course of action. We install both traditional and tankless water heaters. Our experts can help you select the best performing water heater for your family's unique comfort needs. You are guaranteed to be pleased with the results.
Water Heater Repairs in Minneapolis/St. Paul
Throughout the service life of your water heater, our Minneapolis and St. Paul plumbers will always be available to provide for your routine maintenance and emergency repair needs. We make it our mission to ensure that all of our customers have the most efficient, effective, and reliable water heaters possible. After our repairs, you can feel confident knowing that your water heater is in the best position to provide for all of your family's needs.
Our Latest Articles
Need A Ticket For Your Spigot?

Here in Minnesota in the winter of 2020/21 we had one of the coldest winters we have had in a long time, which means we spent a lot of time on calls to unthaw frozen water pipes. While we were able to prevent further damage to […]

Why You Should Say "No!" To The Wait On Fixing Your Small Plumbing Problems

"I have a tiny leak under my faucet, but I don't really think I need to fix it right now".... "Well I know my toilet tank is leaking, but it can't really be costing me that much"....We all do it. We put off that minor car […]