Minneapolis Ground Thawing Service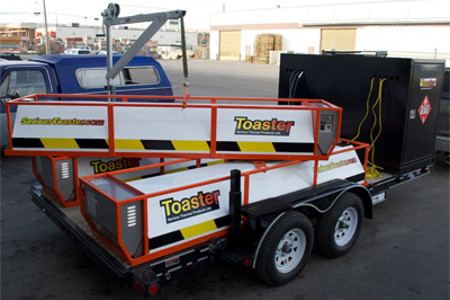 Ground thawing service from Matt's Plumbing Solutions provides the answer for winter excavation and trenching. It is a fast, effective way to continue earning revenue for your business during the slower winter months.
It's very challenging to dig for construction or service utilities during wintertime in Minneapolis. As you know, once the ground freezes work slows because contractors need to excavate or trench frozen ground. It's necessary to fight the frost without breaking laws for ground ripping or coal burning.
Our Minneapolis ground thawing service prevents damage to pre-existing utilities, buried objects, and equipment. Whether for construction projects or utilities, it's the right answer for many local utility companies or other companies that need to dig when the ground is frozen.
Our Minneapolis Ground Thawing Service Customers
With our infrared ground thawing equipment, you can continue your projects no matter the time of year. Give us a call for more information today.
Water & Wastewater Utility Companies
Cemeteries
Excavation Contractors
Pipeline, Oil & Gas Companies
Construction Contractors
Telecom Companies
Electrical Contractors & Companies
Transmission & Distribution Companies
Any Company For Excavating Frost
About Our Ground Thawing Service
We use state-of-the-art infrared ground thawing equipment that is CSA approved. Our system can thaw ground in difficult locations such as between buildings and fence lines, larger areas in odd configurations, and over utilities.
Clean burning equipment
Safe with no open flames
Fast ground thawing
Limited site preparation
Flexible layouts
Safe Excavation & Trenching With Ground Thawing
Some regulatory changes have banned the use of burning coal. Coal and straw burning over frozen ground can be dangerous and hazardous to the environment.
Ripping frost is not allowed over buried utilities. It can damage the utility lines as well as the digging equipment. Ground thawing is an easy, cost-effective, and safe method of excavation and trenching frozen ground.
Why Choose Us For Ground Thawing In Minneapolis?
Matt's Plumbing solutions is dedicated to high-level quality service. Our master plumbers offer a wide range of services to the Minneapolis, St. Paul, and surrounding areas. We handle both residential and commercial plumbing for both large and small projects.
We continue to invest in our company and employees. With our ground thawing service, we have extended our ability to meet local client's needs. If you would like to know more about our fast, flexible, and efficient service, we would be glad to answer your questions.
Our Latest Articles
Need A Ticket For Your Spigot?

Here in Minnesota in the winter of 2020/21 we had one of the coldest winters we have had in a long time, which means we spent a lot of time on calls to unthaw frozen water pipes. While we were able to prevent further damage to […]

Why You Should Say "No!" To The Wait On Fixing Your Small Plumbing Problems

"I have a tiny leak under my faucet, but I don't really think I need to fix it right now".... "Well I know my toilet tank is leaking, but it can't really be costing me that much"....We all do it. We put off that minor car […]